Indespension Challenger Twin Axle Braked Flatbed With Winch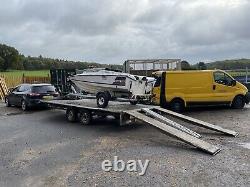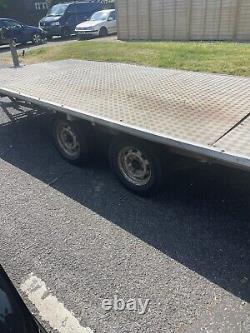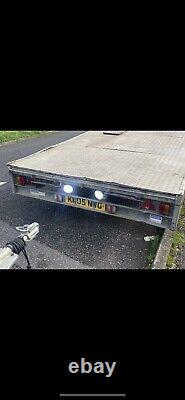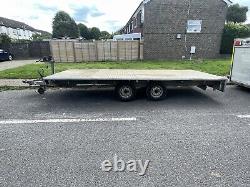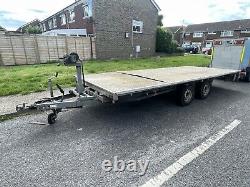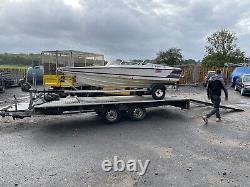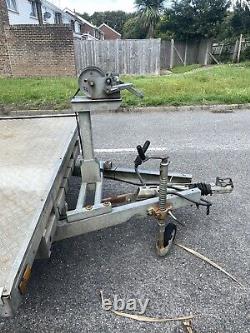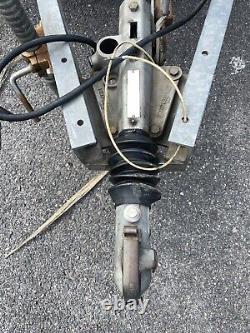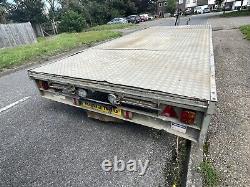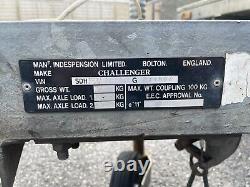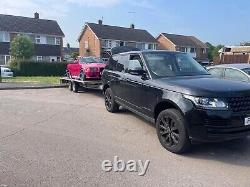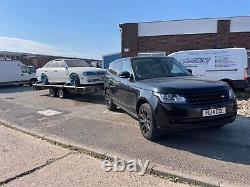 Indespension Challenger Twin Axle Braked Trailer with 2 speed hand winch and ramps. Extra tall jockey wheel stand so you can get a decent tilt (not an actual tilt bed but can get an angle by winding it up). 5.1 x 2.1 metre bed (16.8ft x 6.7ft).
2600kg max payload, 1300kg per axle. Weight of trailer is approx 750kg. Serviced every 3 months by Equinity Trailers, invoices and WhatsApp videos available to reinforce this. Electrics all good, 13pin connection.
The entire bed is metal checker plate with marine ply underneath. This means that the ENTIRE bed is usable, can carry cars, ton bags, awkward/heavy items with no fear of weak spots. This is not a brand new trailer, checkerplate has lifted at join one end but easy fix, haven't addressed this because it doesn't affect me or any of my loads. Doesn't affect use of trailer. One of the plastic lenses is cracked but still intact, winch is currently a marine strap but is designed to take a cable winch primarily. So it has flaws but is completely usable and is in use about 3-4 times per week with no issues. One of the biggest and most industrial Indespension trailers available, pulls like a dream fully loaded or empty.
Brakes were serviced and parts replaced in March, electrics are checked every 3 months, new tyre fitted in June, winch serviced at same time as tyre changed. Damper was greased and serviced in June and new rubber was put on at the same time.
Can be used for recovery or for any flatbed use, mainly had cars and ton sacks on it. As it has no sides it's also useful for hot tubs and other wide items that won't fit on a normal trailer due to width restrictions. Sensible offers will be considered.
Transfer will need to be cleared funds in my account before you take trailer.