Tye Twin Axle Flatbed Bale Trailer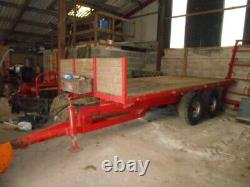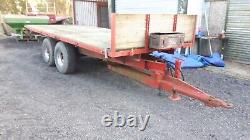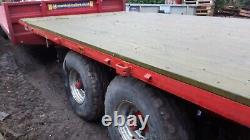 Hydraulic trailer braking in working order. Road lighting in working order.
The body is hydraulic tipping but I have used it mainly for hauling bales to my barn. The tipping body does work and you could make sides for it if you wished. I have normally hauled 18 x 8ft mini hestons at a time or 21 x 7 ft mini hestons. That is 3 wide and 3 high but with 7 ft bales you can squeeze an extra 3 on. The body is 14 ft long plus a 2ft bale extension.
Trailer steelwork is in good condition as is the wooden body etc. Fitted screw jack and ring hitch in good condition, rope box fitted.