Indespension 14FT Car Trailer CT27147 Ex-Hire 2700KG Twin Axle Transporter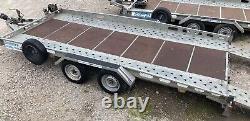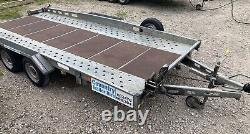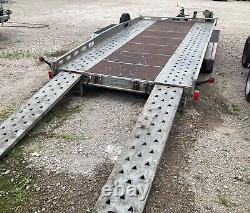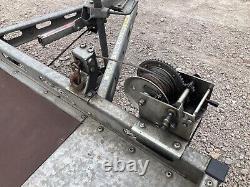 For sale is one of our ex-hire fleet Indespension CT27147 Car Trailers. At Coventry Trailer Hire, we usually remove trailers from our hire fleet betwee n 18 months and 2 years old. All trailers have been owned from new by Coventry Trailer Hire so there is total peace of mind when purchasing a used trailer from us. As you can imagine, all of our trailers are regularly serviced and maintained to the highest standards. All used trailers come fully serviced before final sale.
The CT27147 Car Transporter trailer from Indespension has a flatbed length of 14' x 6'4. The CT range of fixed-bed Car Transporters from Indespension have been designed and built to be a light weight, versatile trailer.
Constructed with a hot dip galvanised steel chassis, the trailers have tracked axles with a fully independent suspension. The trailers are fitted with fully integrated easy-slide galvanised steel pull out ramps. The center decking consists of 18mm phenolic resin coated plywood, which makes these trailer versatile for carrying a range of goods, whilst also protecting them against spray from the road below. The floor deck is built and designed with a series of perforations for lashing and traction. The CT27147 is fitted with an Indespension Triplelock high security anti-theft hitch as standard.
Our ex-hire trailers also include an off-set 1500kg manual winch, a heavy duty jockey wheel, EU approved plug in rear light bulb light clusters and a spare wheel and tyre. Our trailers are also customised to feature upgraded LED number plate lights and spring-loaded number plate clips.
Overall Dimension L x W (m). 5.72 x 2.3. Overall Dimensions L x W (ft x ins). Bed Dimensions L x W (m). 4.3 x 1.94.
Bed Dimensions L x W (ft x ins). Side Height - Internal Max (mm). This is a very versatile car transporter, capable of carrying anything from a classic Mini Cooper to a modern BMW 3 Series.
Ideal for car transporting, vehicle recovery, drift cars and track days. Price is inclusive of VAT. Viewing is welcome at our yard in Coventry, West Midlands. Want to spread the cost?