Boxxa enclosed van trailer 8' x 5' x 5' 2600kg Twin Axle Braked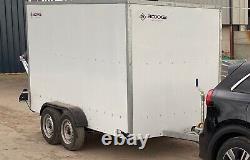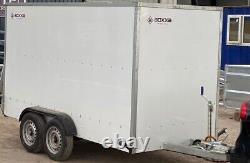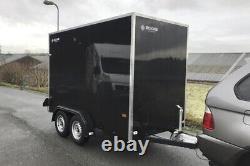 Boxxa 855TB - 8' x 5' x 5' - 2600kg - Twin Axle - Braked. The Boxxa 855TB is our sturdy braked twin axle box trailer with a gross carrying capacity of 2600kgs.
It is manufactured at our premisis in Devon with a fully welded and then hot dipped galvanised chassis to ensure maximum strength, durability and performance. The frame is also manufactured from hot dipped galvanised steel and includes a one piece interior mid height frame to add rigidity and aid securing your load. The side panels are composite aluminium to form a sturdy yet light weight and reliable trailer. The trailer runs on an independent torsion suspension axles and 10' wheels which contributes to the excellent towing characteristics. You can also upgrade these to 13 if you wish. 12mm phenolic board is used for the flooring and the trailer is fitted as standard with barn doors although a rear ramp is an option. We offer this trailer in a variety of colour's. You can choose from White, Black, Grey, Blue, Royal Blue, Green, Dark Green, Red or Yellow. Please let us know your preference when ordering. If you would like further information regarding our trailers or to disucss your requirements and preferences, please contact our friendly team who will be happy to advise you.
Hot Dipped Galvainsed Protective Coating. Gross Carrying Capacity - 2600kg.
Load Length - 8' - (2440mm). Load Width - 5' (1500mm). Load Height - 5' (1500mm). PCD - 4 x 100. Please contact our friendly team who will be happy to discuss the options.