8x5 TWIN AXLE UNBRAKED, CAGED, BOX TRAILER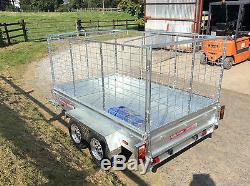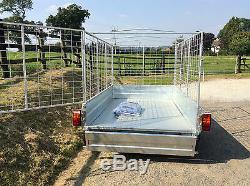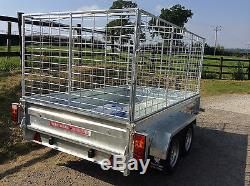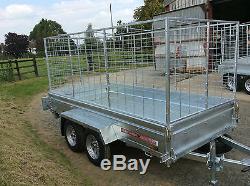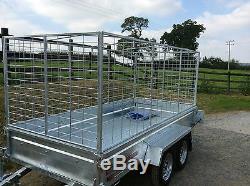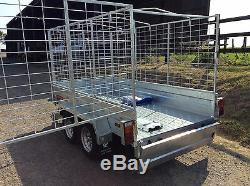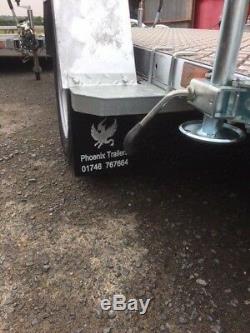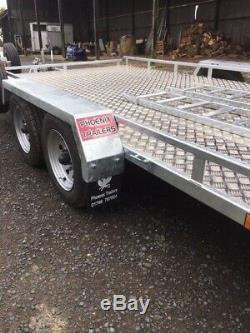 Sorry Western Isles not included, you will need to message to find out prices. PLEASE SEE OUR OTHER LISTINGS. WE DO BIKE TRAILERS/ ATV/QUAD/GOLF BUGGY/ CAR TRANSPORTERS/TOWING DOLLYS. ALL OUR TRAILERS HAVE FULL COC APPROVAL. TOBER 2014 IT WILL BE UNLAWFULL TO SELL A NEW TRAILER IN THE UK WITHOUT TYPE APPROVAL.
BRAND NEW 8 x 5 TWIN AXLE TRAILER (NOT BRAKED) 750kg GROSS. The chassis is built of box steel , the floor also has angle iron braces for extra strength. All of which is fully welded & hot dipped Galvanised. The draw bar is'A' frame design for extra strength & is again hot dipped Galvanised.
The floor is made zinc plated steel. The front & rear loading doors both open. The one meter high mesh sides are also hot dipped Galvanised & can be easily removed.
The trailer has its own fully fitted lights, with wiring running through the chassis. Spare wheel & jockey wheel are included in the price(can be fitted on top or under trailer). Tyres are 145/12 & are rated at much more than the 750kg gross weight of this trailer. These trailers are complete with no hidden extras. Full 1000mm high mesh sides Free!
Spare wheel and carrier Free! The trailer is fully built and tested Free! ALL TRAILERS COME WITH A FREE COVER. Please see our other listings for.
The pictures are of our 8 x 5 trailer. The 8x5 trailer internal measurements are 8ft2x5ft the overall lenght is 11ft.
The 9x5 trailer internal measurements are 9ft3x5ft the overall lenght is 12ft. The 6x4 trailer internal measurments are 5ft10x4ft4 the overall length is 9ft. The 7x4 trailer internal measurments are 6ft10x4ft4 the overall length is 10ft.
The 8x4 trailer internal measurments are 8ft1x4ft4 the overall length is 11ft. This is the most comprehensively equipped twin axle. CREDIT / DEBIT CARDS, CASH AND BANK TRANSFERS ARE PREFERED. We guarantee that the quality and description are exactly as described in this ad.
EC COC MEANS EUROPEAN COMMUNITY CERTIFICATE OF CONFORMITY. ALL OUR TRAILERS HAVE PASSED BRITISH TESTS TO BE APPROVED.
Please be aware that there are unscrupulous retailers operating on e-bay and elsewhere who will seek to avoid the legal requirement to provide a European Certificate of Conformity at point of sale. Examples brought to our attention include adverts that state that the trailer is for off road use but inviting the customer to secure a Certificate of Conformity through an Individual Vehicle Approval (IVA) inspection.
We would strongly advise customers to be wary of such offers as no guarantee can be given that the trailer meets the necessary requirements - many we have seen do not. EC Whole Vehicle Type Approval - ECWVTA. Small Series Type Approval - NSSTA.
NSSTA and IVA are UK approvals and may not be acceptable in other E U member. THE ABOVE APPROVALS ARE THE ONLY LEGAL APPROVALS. PHOENIX GENERAL PURPOSE TRAILERS HAS BEEN GRANTED ECWVTA (European Community Whole Vehicle Type Approval).
PHOENIX TRAILERS IS A FAMILY RUN COMPANY, WE BELIEVE THAT SERVICE AND QUALITY COME FIRST. READ WHAT OUR CUSTOMERS HAVE TO SAY- SEE BELOW. Firstly we would like to share with you a fabulous endorsement our bike trailer got from Mr Nick Sanders.
If your at all unsure who he is just'google' his name. Nick Sanders write about Phoenix Trailers....... Before I left for Timbuktu, I looked around for a trailer that could carry up to three bikes along what I knew has one of the worst roads in the world on it's route. If we hadn't got the right support there, we'd be 8000 miles away from home and in a right mess.
John at Phoenix asked me to road test one of his trailers and it was great. For ordinary roadwork I wouldn't hesitate to use a Phoenix trailer.
After taking it to Timbuktu, it's got to be pretty good. Thanks John for the 3 bike trailer. The trailer was perfect for providing support to the two tours to the Sahara. It was just the ticket!
We crossed the Atlas Mountains 6 times in 3 weeks and even took the trailer off road! We had to carry 4 bikes in total. At one point we had 3 bikes on the trailer including two BMWs.
A 20,000 mile trip! Once again, John, you provided us with a tough, quality product.
Thanks again for all your support. Hi John, This is Simon Carpenter, I spoke to you this afternoon (28/4/15) re. Could you advise the website you recommended to get an updated LED trailer board/lights please and the main electrical socket that connects the trailer to the car. Also, could you please send me a replacement black plastic inspection cap that fits on the centre hub cap covering the wheel bearing. My address is I would also like to say thank you for the trailer. I've had it for around 3 years now, its lives outside and is almost as good as new. More than a few people have remarked how well built it is. It's one of the best value and well made items I have bought and I expect it will last for many years - thank you again. You made me a single big bike trailer with extra hooks at the front to take handle bar ties and I promised you some feedback. Unfortunately because the handle bars are rubber mounted and large and swept back they cant take any tightening down so that didnt work as I planned.
However using the wheel lock gives me enough just to keep the bike upright while I fix the tie downs. Trailer is brilliant all round, many thanks, Brian Mason. Julie, just a short note to say that I'm very pleased with the trailer. It is an excellent piece of workmanship.
Dear Neil and John (and family). Thank you for your help on Sunday.
The trailer towed very well over the 130 miles to my destination. Professor Richard Parish, CBE, DSc, HonFRPharmS.
I dont even know the trailer is there when towing, will recommend you to all my friends Regards Trevor Humphrey. During this time the trailer has covered more than 16,000 miles in 17 countries including Albanias dirt tracks and the trials of some of Romanias and Ukraines lesser roads. The robust structure of the trailer continues to endure all required of it, apart from the rear sheets Velcro adhesive qualities, which has suffered from the baking of the +49C temperature it has experienced.
I bought a twin axle trailer from yourselves in September 2012 and I have to say it has been a fantastic workhorse. We bought a property in France in the Charente Maritime region which is situated about 600kms from Calais.
The trailer has made at least 4 trips back and forth from the UK, travelling mostly on Motorways at speeds of 80-90 mph and even when fully loaded it has behaved impeccably, never once swaying or feeling unstable. I could not speak more highly of the build quality and performance of the trailer and have had many people compliment us on the trailer. I have a need to register the trailer in France and I understand that I need a certificate of conformity for this. I saw on your website that you can issue these, can you send me one for my trailer.
I look forward to hearing from you. We have found it easy to drive with, and good reversing too Ralph London ps will let you know when I have completed my estimated 34 trips that will be over 80,000 miles in total in 15 months. Hello John, just towed the trailer fully loaded to the south of France, it makes an excellent kayak trailer as well, and will send you some pictures. Thank you for an excellent piece of kit.
Best regards Phil Gasson Adventure Ardeche. It was good to meet you (eventually) Saturday - sorry about the delays, bloody SAT Nav - you can never rely on it.
Just a quick message to say thanks for sorting me out with one of your quality trailers. There really has been a lot of thought put into the design of your range and they are all superb.
Apologies for my surprise when I actually seen the size of the 8x4 close up - I think with the cage and cover on - I pictured it in my mind as the size of a small caravan sitting on the drive (although that said, it was a cracking trailer). So to then jump to a 6x4 might have seemed strange I suppose (and for me as well because I'd set my heart on at least a 7x4), but the 6x4 will more than suffice me for what I need and it still has the same features and build quality of its bigger brothers - but won't annoy the misses as much on the drive.
Towing it home was a dream, never even noticed it was there. Thanks again, I will be sure to recommend you if any of my friends are looking for something similar in the future.
If you want an updated testimony etc for the website, just drop me a line and I'd be more than happy to oblige. Hi John, Sorry that I have not been back to you before but moving home have been a little hectic to say the least, but just a quick note to thank you for the trailer which arrived safe and sound courtesy of Riccardo. Thank you again and kind regards, Stewart Gammon. A big thank you to Phoenix! I bought a 7' general purpose trailer from you a couple of months ago and tested its all round strength by tipping it on its side Monday lunchtime, loaded with green stuff.
Virtually no damage at all - fantastic! The only thing that broke was the tow hitch - twisted to one side, so I needed a new one.
The trip to the tip continued with just a 24 hr delay - and no tipping over again! At the beginning of June I bought a three bike braked trailer from yourselves. We took a Triumph Sprint 955, a Suzuki Bandit 600 and a Husaberg FE550. We estimate the total load was somewhere around the 700kg mark. The trailer didn't miss a beat. On the way down we went though some atrocious weather conditions and the trailer was completely solid. Even when doing 70mph for hours at a time the tyres only ever got warm. Thanks again for a great trailer. I've included a couple of photo's of it all loaded up.
Dear John Thank you for the excellent trailer that you supplied me last week. I did previously look at similar size trailers at our local suppliers, Blue Line, but they were of a much lower spec than yours and were several hundred pounds dearer.
Also their sales staff were not as helpful and pleasant as the experience I have had with Phoenix. As things get busier and I find the need to add more trailers for business & flying/camping, I will come back to Phoenix every time! Thanks again & best regards Dave Westall 3 bike trailer.
Dear John, We arrived safe and sound in Hungary after a 3000km trip through France, Italy, Slovenia, Croatia and finally Hungary. The trailer performed superbly, with no problems. The roads through France etc were good but the roads in Croatia and Hungary, once off the motorways, were rough but the trailer handled well. We travelled at 90-110km/hr on the motorways and 70-90km/hr on the other roads.
Thanks once again and I can thoroughly recommend your trailers to anybody. It is as good as gold. It carries my large Kawasaki VN cruiser as well as a couple of smaller bikes comfortably and has proved to be very steady both loaded and empty. It also does not suffer from bounce when not loaded. You have carefully thought out the design and it works. It also greater flexibility than any other bike trailer I have used.
John, 4000 thousand miles around Morroco with two bikes. Is absolutely amazing, stable and bullet proof.
If you wish for more. I did not appreciate or see half the details on the trailor until we.
Hello all at Phoenix trailers... Matt Sullivan of "Timba-Wolf (where wood works)" here, i came up to collect the trailer you made for me the weekend of 18th/19th of this month, the 8 x 4 braked trailer, with rear supports, and cover... I'm the guy with the big Grey Dodge Journey vehicle...
Well, the trailer handled excellently behind the Dodge, in fact i never really noticed it was there apart form the rattles.. , but as i say, it towed superb,,,, and the trip home with a detour (thanks to the wife wishing to see her sister) was an uneventful one....
A few looks at the trailer by passing motorists... Well i say unevent full, not quite, as part way home the stitching on the canvas started to tear at the nearside front corner.. Where the bungy cable is but can be easily repaired by a local car upholsterer... But a minor problem i think!!
However other than that, all my friends/neighbours , and work mates/clients have all commented upon it, from the overall fab design to the fantastic, neat welding, and the fact it is (the frame) welded THEN Hot dip galvanized, not galv'd then welded.. All round pound for pound, the best trailer i have ever come across, and the journey up from Kent, inc the over night stay was well and truely worth the time...
In it's first week it has already started to earn it's outlay..... We have started to put your company upon our Dodge owners website, pic to follow!!!
And i have decided to that when my own company website gets updatedlater in the year , i will be posting a link to your good selves.... Oh well enough waffle, but thanks again for building such an all round great trailer... It towed extremely well and was a light as a feather.
The storage is absolutely first class, taking up no room whatsoever. I would recommend these trailers to anyone wanting a bike trailer. We arrived back in East yorkshire after a 320 mile round trip to your workshop. Every mile was worth it The ATV Trailer is of remarkably high quality and will carry our planned charity event modules for years to come.
While with you we noticed the similar heavy engineering quality of your bike trailers and wish you and your team continued success. The item "8x5 TWIN AXLE UNBRAKED, CAGED, BOX TRAILER" is in sale since Monday, February 8, 2016. This item is in the category "Vehicle Parts & Accessories\Car Accessories\Trailers & Towing\Car Trailers". The seller is "phoenix-trailers" and is located in Bridgnorth. This item can't be shipped, the buyer must pick up the item.
Manufacturer Part Number: CCT30111
Brand: PHOENIX