Car Transporter Bespoke/ Made To Measure/ Twin Axle Braked Trailer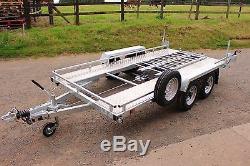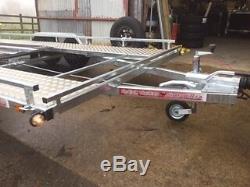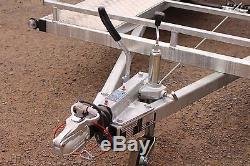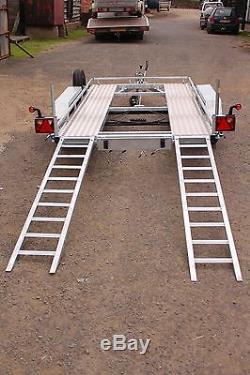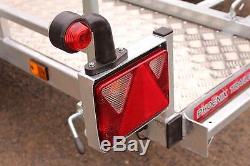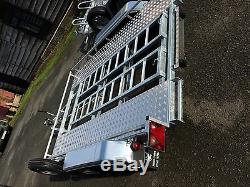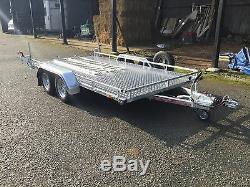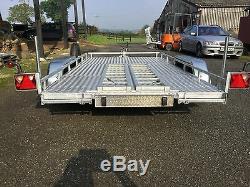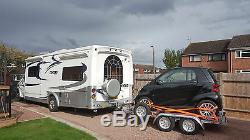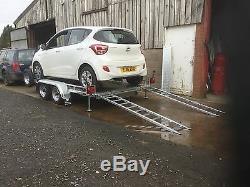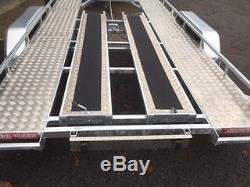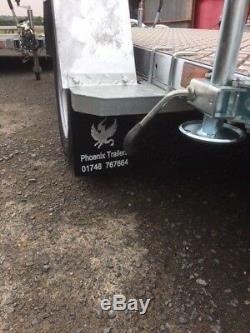 Please note: This promise does not include bespoke trailers or trailers that are delivered. The Phoenix car transporter will fit most small and medium sized cars up to 1500 kgs and this is what makes it BESPOKE with bed length from 2500 mm to 4000 mm and a bed width between 1500 mm and 1900 mm , with an overall trailer length from 3600 mm to 5200 mm. The weight of these trailer range from 300 kgs onwards (depending on extras/length/width) , making these trailers truly BESPOKE. Fully braked on both axles.
Tyres are 145 R 12 8 ply (rated at over 500 kgs per tyre and are E marked). Fully fitted lights (including both fog and reverse to EU specification). Loading ramps in ladder style (but can be filled in with a none slip material at a small extra cost). Ramps length start at 2000 mm but can be made longer for lower cars (usually 2500 mm).
The photos show various trailers (different lengths, widths, with some added extras :- filled in ramps/bed, locking coupler , prop stands , winch and bracket). PLEASE SEE OUR OTHER LISTINGS FOR. 2.5 Metre Ramp Infill. The transporter can be built to fit most modern / old / trackday / bespoke cars and trikes / bikes as well.
Calculated on miles there after. CREDIT / DEBIT CARDS, CASH AND BANK TRANSFERS PREFERED. PHOENIX TRAILERS IS A FAMILY RUN COMPANY, WE BELIEVE THAT SERVICE AND QUALITY COME FIRST. ALL OUR TRAILERS HAVE FULL COC APPROVAL.
EC COC MEANS EUROPEAN COMMUNITY CERTIFICATE OF CONFORMITY. ALL OUR TRAILERS HAVE PASSED BRITISH TESTS TO BE APPROVED. Please be aware that there are unscrupulous retailers operating on e-bay and elsewhere who will seek to avoid the legal requirement to provide a European Certificate of Conformity at point of sale. Examples brought to our attention include adverts that state that the trailer is for off road use but inviting the customer to secure a Certificate of Conformity through an Individual Vehicle Approval (IVA) inspection. We would strongly advise customers to be wary of such offers as no guarantee can be given that the trailer meets the necessary requirements - many we have seen do not.
AFTER THE 29th OCTOBER 2014 IT WILL BE UNLAWFULL TO SELL A NEW TRAILER IN THE UK WITHOUT TYPE APPROVAL. READ WHAT OUR CUSTOMERS HAVE TO SAY- SEE BELOW. Firstly we would like to share with you a fabulous endorsement our bike trailer got from Mr Nick Sanders. If your at all unsure who he is just'google' his name! Nick Sanders write about Phoenix Trailers.......
Before I left for Timbuktu, I looked around for a trailer that could carry up to three bikes along what I knew has one of the worst roads in the world on it's route. If we hadn't got the right support there, we'd be 8000 miles away from home and in a right mess. John at Phoenix asked me to road test one of his trailers and it was great. For ordinary roadwork I wouldn't hesitate to use a Phoenix trailer.
After taking it to Timbuktu, it's got to be pretty good. A big thank you to Phoenix! I bought a 7' general purpose trailer from you a couple of months ago and tested its all round strength by tipping it on its side Monday lunchtime, loaded with green stuff. Virtually no damage at all - fantastic!
The only thing that broke was the tow hitch - twisted to one side, so I needed a new one. The trip to the tip continued with just a 24 hr delay - and no tipping over again! Hi, At the beginning of June I bought a three bike braked trailer from yourselves. We took a Triumph Sprint 955, a Suzuki Bandit 600 and a Husaberg FE550. We estimate the total load was somewhere around the 700kg mark.
The trailer didn't miss a beat. On the way down we went though some atrocious weather conditions and the trailer was completely solid. Even when doing 70mph for hours at a time the tyres only ever got warm. Thanks again for a great trailer.
I've included a couple of photo's of it all loaded up. John, 4000 thousand miles around Morroco with two bikes.
This trailer is absolutely amazing, stable and bullet proof. To be honest I did not appreciate or see half the details on the trailer until we were on the trip. Dear John I bought my goldwing trailer from you last july and after traveling 4000 miles in 9 weeks towing trailer with goldwing behind my motorhome. All I can say is brillent photo to follow thanks again richard williams (south wales). It towed extremely well and was a light as a feather.
The storage is absolutely first class, taking up no room whatsoever. I would recommend these trailers to anyone wanting a bike trailer.
The item "CAR TRANSPORTER BESPOKE/ MADE TO MEASURE/ TWIN AXLE BRAKED TRAILER" is in sale since Tuesday, December 6, 2016. This item is in the category "Cars, Motorcycles & Vehicles\Commercial Vehicles\Trailers/Transporters". The seller is "phoenix-trailers" and is located in Bridgnorth. This item can be shipped to United Kingdom.