NEW Tickners Catering Exhibition Braked Trailer 10 x 6 x 6.5ft with Electrics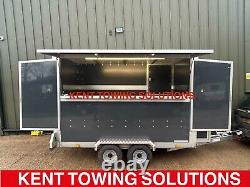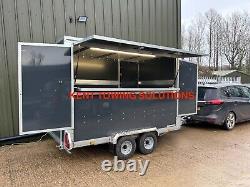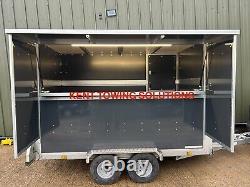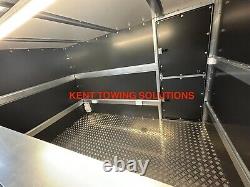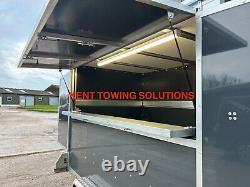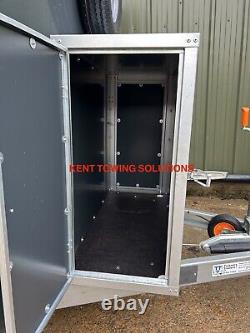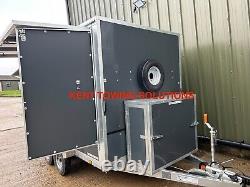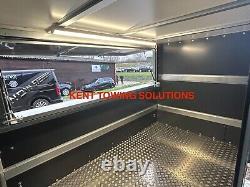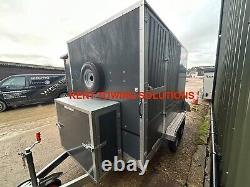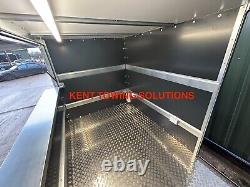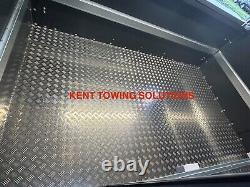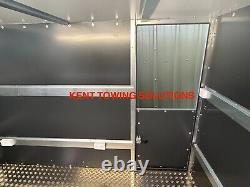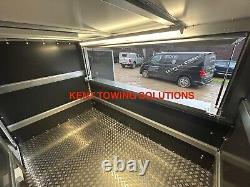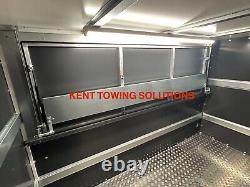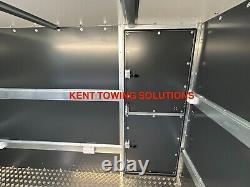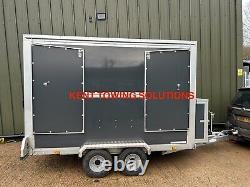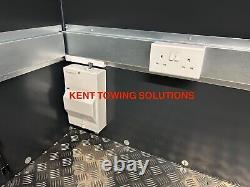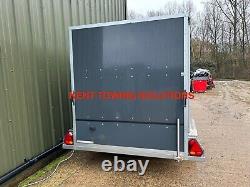 Kent Towing Solutions Present: New Tickners GB166 10ft x 6ft x 6.5ft Box Trailer with Sales Exhibition Flap and lots of added extras. E are a VAT registered business and provide invoices with VAT separately displayed. The advertised price is Including VAT. We always stock a wide range of Tickners Trailers on site and and across the entire Tickners range, including trailers in CP53 range, the ECO value box range, GP single axle box range, GT twin axle box range and finally the GB twin axle braked range. If we do not have your ideal Tickners Trailer on site we can order it in for you, this is very common given that the trailers are very versatile and can be personalised with different colours, side access doors, shaped front, ramp tailgate, increased MGW upgrades and much, much more.
Manufacture lead times are very reasonable but of cause the sooner you place the order the sooner the trailer can be manufactured and collected or delivered. If you are interested in a smaller or bigger trailer across a different Tickners range, please let us know and we can supply the relevant price-list. They are manufactured to a high level, look brilliant, tow fantastic and in general do the job at a much lower price then many other like for like trailers on the market. All trailers are vehicle type approved and come with the certificate of conformity.
Please note that this trailer has extras of the below INCLUDED IN THE PRICE. Split Barn Door for Access.
Front Storage Box which will hold 2 x 19kg Gas Bottles. Electric Package Fitted (LED Strip Light and 2 x Double Sockets). This trailer along with the entire Tickners range comes with the following as standard.
The internal box measures: 10ft Long X 6ft Wide X 6.5ft High. We are proud to be official stockists of market leading towing industry manufacturers including Nugent Trailers, Debon Trailers, Tickners Box Trailers, Erde, Daxara, Maypole, Wessex Trailers, Bulldog, Cheval Liberte Trailers, SAS, HMD Plant Trailers, Caretta Teardrop Caravans, MobilChef Catering Trailers and more!
By supplying the entire range of each individual brand Kent Towing Solutions retail a wide range of new and used quality trailers, parts and accessories to suit ALL personal and commercial needs. If you have any questions please do not hesitate to ask.