Lider Trailer 39600 8X5 2500kg braked Twin Axle Tipping Trailer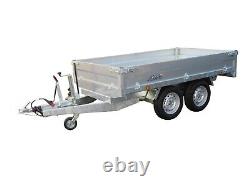 Before purchasing as stock is moving faster. Than we can update quantities!
This Lider Benne 39600 general purpose braked twin-axle tipping trailer is ideal for commercial use, with a 2500Kg Maximum Gross Weight and a 256 x 148 x 30cm bed size. It has an Galvanized V-shaped drawbar and includes a jockey wheel, 13? Road wheels, a tipping bed, manual tipping now fitted with the new Flexi Pump(enables the use of a cordless drill to operate the pump) and folding front rear & side sideboards for easy loading and unloading.
Numerous accessory's options are available including side extensions, load covers, carry/ladder bars, spare wheel carriers etc. All Lider trailers come with a certificate of conformity to show they are built to stringent European standards. Unladen Weight - 550 kg. Maximum Gross Weight 2500 kg.
Axle capacity - 2 x 1300 kg. Internal dimensions - 256 x 148 x 30 cm. External dimensions - 385 x 160 cm. Folding Front, Rear & side tail gate + removable corner pillars. Tipping Body with Flexi pump.
Feel free to look at the rest of our Lider trailer range by clicking on the text below. We have a huge range of models and over 150 trailers in stock at any time. We are official UK importers for Lider trailers and Lancashire stockist for Sunway and Galaxy Boat Trailers, Merdith and Eyre Trailers. Please find our contact number in the.
At the bottom of the page.