BOAT TRAILER PP25-8025 2500KG TWIN AXLE LORRIES 26ft BOAT TRAILER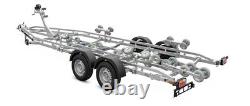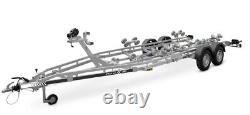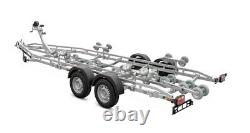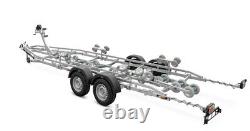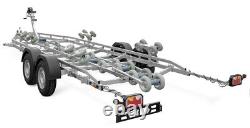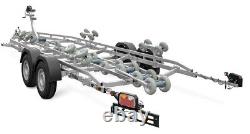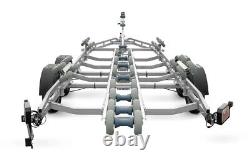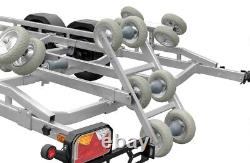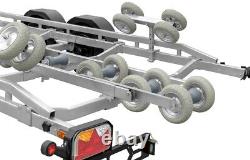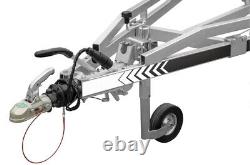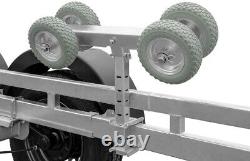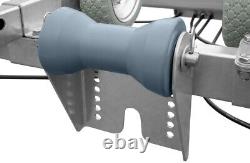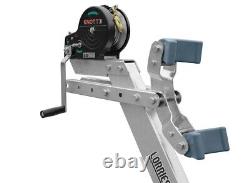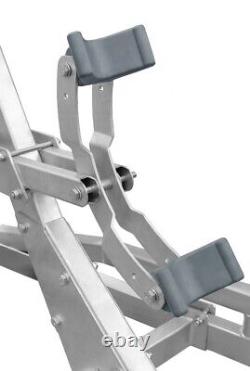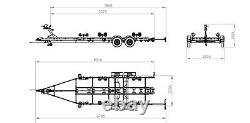 MAX BOAT LENGTH: 7800mm (28.29FT). BOTTOM MIDDLE ROLLER QTY: 7.
BOTTOM SUPPORT ROLLERS QTY: 14. The largest of the trailers for transporting boats and yachts we offer is a braked, two-axle model with a GVM up to 3000 kg.
The front side supports can be adjusted in height, rotated by 90 degrees and also the method of attachment can be changed. Similar solutions are used in case of the middle and rear brackets, but here we can additionally adjust the angle of their inclination from 60 to 90 degrees. The polyurethane wheels used on the trailer are highly resistant to abrasion and mechanical damage. Their extraordinary advantage is also that they do not leave marks or scratches on the boat. The PP30-8025 is a large trailer designed for transporting boats and yachts of medium size and weight.
Thanks to its dimensions and GVM up to 3000 kg, it can carry a load weighing nearly 2300 kg. Although the standard length of the trailer allows to transport a boat up to almost 8 m long (exactly 7.8 m), thanks to the lamp extension system used on the trailer, its possibilities are increased by as much as 80 cm, allowing you to transport cargo up to 8.6 m. The trailer does not have a rear bumper beam. However, it was equipped with the so-called cradle and wheels to assist in bringing the boat in and out of the trailer.
The PP30-8025 trailer is equipped with a parking and overrun brake. Its stable structure is guaranteed by a specially designed guide with wheels and keel rollers, located along the loading surface. The entire structure is connected by five transverse supports, the location of which can be freely adjusted. In the frame, we can regulate the arrangement of supports, sets of wheels and bottom rollers. Individual adjustment of these elements is important, in particular in case of trailer rentals and companies transporting boats, yachts and similar equipment. If a customer has'accepted' an item, but later discovers a fault, you may have to repair or replace it. The customer can still reject the item after it's been repaired or replaced. A customer has accepted an item if they've. Told you they've accepted it (having had enough opportunity to inspect the item before confirming they've received it).
Alternatively, we can accept return but refundable is only 70% and item must be in non-used condition. Knew an item was faulty when they bought it. No longer want an item e.
Because it's the wrong size or colour unless they bought it without seeing it. As an independant supplier of a huge range of construction products, we understand that our customers reputation is paramount on the quality and service they receive from their suppliers, therefore we invest massively in holding the right stock, delivering at the right time, and providing the very best in customer and technical service.