Indespension Tip35105e Twin Axle Caged Tipper Trailer 3500kg Gross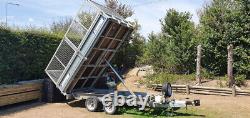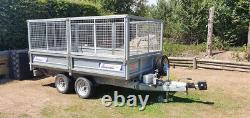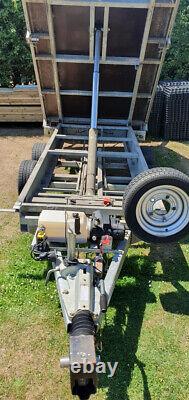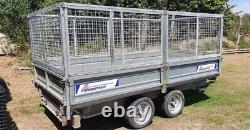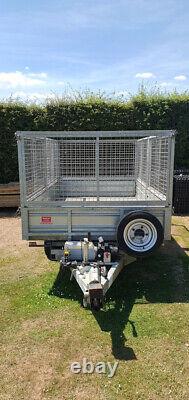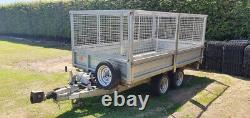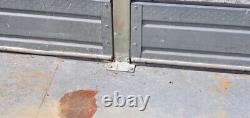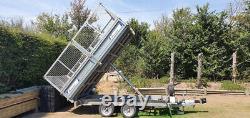 TWIN AXLE BRAKED ELECTRIC TIPPER TRAILER. WILL CARRY ABOUT 2700 KG APPROX. The trailer is in great condition and ready to use, it comes with a key to the locking hitch and the Indespension manufacturur plate is in place. The caged and drop down sides can be removed to load the trailer all the way round. I have been using the trailer myself for the last year to collect goods from my local quarry and timber and it tow's excellent loaded or empty, it's only had one previous owner who used it to collect bails of straw.
There is a place to store loading ramps under the trailer but no ramps are included. Original steel floor is in excellent condition. The center post on the left side had some movement in it so i have fitted a strong support bracket which has made it very solid and you can see this in the picture i have included. The trailers only slight fault is light cracking on the surface of the tyres caused by the sun but it's not bad and they have good tread, the spare wheel is unused. All lights and brakes work, long tipping remote lead so you can see what you are tipping and the remote can be removed, a power shut of key is included, good strong leisure battery fitted.
COLLECTION IS FROM ORSETT ESSEX.